UF1 Post Race Interview – 2013 Winter Series Race 4
Podium Interviews
Drivers: Lee Passehl (1st), Dave Berger (2nd), Chris Cabrales (3rd)

Chassis:
TOP Rebel
ESC:
Tekin RS
Motor:
Schuur Speed 21.5
Battery:
Turnigy Shorty
Driver: Lee Passehl
Q: Congratulations Lee on another fine performance. Even though you took the day's overall win, a lot of the top drivers are stepping it up and putting some pressure on you. What are your thoughts on the rest of the season and the direction you are going to take to keep at the front of the pack.
A: Pressure is good:)! I came from a track (Trackside Hobbies/Scotty Ernst) where every club race was "nose to tail" twice a week. I am used to it and comfortable leading or pursuing. That's what makes the UF1 series so awesome; there is a very deep group of guys stepping it up more and more each week trying to close any gap that you may have. As far as what I'm going to do for the rest of the season, I'm going to continue to do what I've been doing. Hopefully that will be enough! There's no substitute for testing and practice, practice, practice:) I love to practice! It helps me with my visual memory of the track. On a new layout I like to try different driving lines entering into and out of corners. Once I feel I have figured out the fastest way around the track, I practice on being able to repeat that lap time after time. It's is why I am pretty consistent from lap to lap. My dad, Team patron running mate Ron Schuur and I are constantly looking for ways to get faster. We like to try different setups and compare notes on how the change worked or didn't work. Take good notes on what you've tried (my dad's job) so you know what to do if those conditions occur on race day.

Q: Rumor around the pits is a new tire setup that allows the car to be more consistent in the corners than the current Pit Shimizu 571. Care to share any information you've found?
A: I think everyone has figured this out in the last race or two. Glad to share my tire setup! Using Pit 571's or 574's front and Pit 579's or 575's rear seems to be the ticket at TQ. It all depends on the grip level. I sauce the fronts more fully if the grip is low and less if the grip is high. I always full sauce the rears.
Q: I know you knew this question was coming; final turn of the final lap. Berger made an inside attempt and it went sour on your end. What are your thoughts on the pass attempt by Berger?
A: I'll keep my reply "professional". I think it is obvious how I feel about the outcome of race 3. All I will say is that I wish it would have been like the pass I made on Chris Cabrales on the last lap of race 1 for the win:) A clean pass is possible:)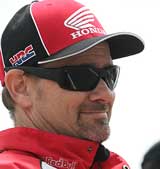 Chassis:
Tamiya F104 VII
ESC:
Tekin RS
Motor:
Reedy Sonic 21.5
Battery:
Reedy Shorty
Driver: Dave Berger
Q: Congratulations Dave on another great weekend. You're currently 19 points behind Passehl in the Driver's Championship. This guy appears to be definitely on his game and has won the last 2 races. What do you think it's going to take to catch and pass him?
A: Everyone is so quick each week, to be in the top 10 is both an honor & an accomplishment. For sure Lee been running strong the last few races, but I believe Team Repsol have caught back up, and we are in a position to challenge for podium finishes, and perhaps with some luck, be in contention for a win.

Q: Team Repsol-Honda is also, coincidentally, 18 points behind Team Patron-Honda. Both you and Fred had strong Top 10 finishes that helped you gain some ground on the Patron boys. Does it help, team-wise, that you and Fred both have the same driving style? If one of you stumbles upon something that works, are both cars outfitted with the change prior to the race?
A: My teammate & I mesh well together. We are always looking to improve car settings, driving lines, & race
strategy. It's a lot of fun to be teamed up with an old friend, racing toy F1 cars 😉

Q: I know you're aware of the protest against you for the botched pass attempt on the last lap of the final race but, in your own words, take us through what happened in that corner.
A: I wasn't happy taking the H3 win that way, you always want to make a clean pass, especially when it's for the win.
The last lap pass…
On the last turn of the lap, Lee left, what was in my opinion, enough room for my car, and I went for the gap. Of course he tried to close the gap after my move, as most any driver would in that situation. It ended with his Patron car upside down, while I waited for him to be marshaled. Unfortunately, he had not crossed the timing loop before the race finished; I was only a few inches in front of him, but on the other side of the loop. It's unusual to to win a race like that, in fact in my 20+ years of racing, I've never seen that happen.
Early in the first few mins we had a few close exchanges where I had to take action to avoid contact, I came out behind, but still in the battle. We raced close for 15mins, on every mm of track, with pit-stops and traffic. What a race! Lee still ended the day with the win, and the most points.
I caused an avoidable accident, such is the case the 5 grid spot penalty is warranted, and I apologize again to Lee and Team Patron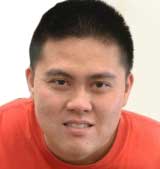 Chassis:
Tamiya F104 VII
ESC:
Hobbywing 102A V2.1
Motor:
Trinity D3.5 21.5
Battery:
Gens ACE
Driver: Chris Cabrales
Q: Great job this weekend Chris. Your car definitely looks great going around the track! I think you've surprised some people with just how good your car is! Is there anything special about it or have you just tuned it to be easy to drive?
A: There is really nothing special about my car, I put in alot of practice days and I finally found a setup that just made my car hooked up
Q: Rumor has it you'll be missing a few more races during the Winter Series. Any chance we'll see you out in the 2013 Summer Series?
A: Yup, the rumor is true and I will be missing the last 3 races of the Winter Series. I already knew about 3 months ago that I wouldn't be able to finish out the series. I just wanted to do well with the races that I could attend. More than likely I will run the 2013 Summer Series.
Q: Are there any other things you like to share about Chris Cabrales? Any other classes you like to run, sponsors you'd like to thank or voodoo rituals you'd like to share?
A: Hmmm, I cant really think of anything I'd like to share about myself. I just really love this hobby and enjoy the competition of racing all my toy cars. Well as of now I run Sedan, F1, FWD and if there is one class I'd like to try that would be the pan car class. I really dont have any voodoo rituals before a race, but I always make sure to go to the bathroom before those long 15 minute mains :). I'd like to thank my sponosors Hot Bodies, RadioPost, GensAce, HobbyPartz and NitroRCX.
Thanks guys for putting on a great show for the UF1 Series. I'm sure everyone is looking forward to the next race on January 19th!