Race Recap: UF1 Winter Series 2014 – Race 1
Post Race Analysis
The opening race for the UF1 2013 / 2014 Winter Series got underway with Round 1 of 5 at Southern California's premier indoor carpet track, TQ Raceway in Chino, California. With current UF1 boss Fred Medel in Japan assisting the Tamiya USA drivers for their quest for the Tamiya World Championship, the UF1 series ran a smooth Round 1 in the capable hands of Mark Goldwater, Tim Ruwe and track owner / UF1 racer Sean Park with the race action called by Joe Mac.
Round 1 was a light start with 21 entries. Not up to the previous year's level but with some welcome new faces to the Series as a number of local TQ Series F1 racers stepped up to the demanding UF1 schedule. Going from 6 minute races to a 15 minute race with 2 pit stop strategy seems simple until you jump in. The new crop of drives made a respectable showing with newcomer Jason Paredz cracking into the A group with a strong qualifying effort.
UF1 qualifying is a 3 minute session with the average of the driver's five best laps counting as their qualifying time. The usual suspects were at the top of the time sheets headed by Kevin 'Panda' Cole with TQ and Bill Jeric 2nd, the only two drivers to qualify under the 11 second barrier with averages of 10.804 and 10.978 respectively. Only four 100th's behind in 3rd was Cole's Mild Seven Mercedes teammate Steven Jackson at 11.017 with newly signed to co-drive on the Caterham Team Aaron Lane on 4th just a breath away at 11.077. The surprise of qualifying was the heartbreak of Bill Jeric's Team Jagermeister Ferrari Tuning Haus teammate Eric Shauver who looked to be a top five contender but a faulty transponder relegated Eric to the C group for the day. Eric would have a tough road ahead but his positive attitude showed in his race runs. Rounding out the 10 top began with Sean park, TQ track owner and driver of his own belt drive conversion 3-Racing FGX in 5th, TQ local Vincente Riveria in 6th, another TQ local Jason Paredez in his first full season of UF1 7th closely followed by UF1 regular Mark Goldwater in 8th (first to start in the B group), another new UF1 competitor Jeffery Fink in 9th and UF1 regular Quincy McClinton in 10th whose recent practicing at TQ would show benefits during the races. Just under 7/10th's of a second separated the top 10.
Round 1:
Race 1 started the day's action with fast guy Erik Shauver whose qualifying troubles saw him start farther back than usual dominate the first round with a strong run of 76 laps that gained him 5th overall points in the first round. Following in 2nd was Erik Denk ahead of Tim Ruwe, Kevin Roundy and Earl Barnes (who along with Steven Jackson is making the haul from Las Vegas to compete). Rounding out the field was farther / son Team Elf Tyrrell drivers Jeremy Dee with young Jacob having mechanical troubles to complete the field. The drivers in this class were to be commended for their skill and courtesy as they gave lots of room to Eric Shauver who was lapping at times 1 to 2 seconds a lap faster than his competitors. Good job guys!
Race 2 was just the beginning of one of the best day long battles comprising Mark Goldwater and Quincy McClinton in their usual Team Caterham colors for Mark and Quincy's unmistakable BAR Honda. Mark got the edge in Round 1 with a 3 second victory over Quincy, both turning 74 laps and Roy Tolentino keeping them honest in third just 5 seconds back. Completing the field were Jeffery Fink in 4th on 73 laps, Don Stearns fifth with 72 followed by Alan Rollo and Doug Rebal.
Race 3 and the fast guys took to the track. Kevin Cole took advantage of a clean track from pole and lead from flag to flag to set what would be TQ run for the day with 80 laps on 15:08. After some first lap troubles that cost him 4 seconds but dropped him to last after the first lap, Bill Jeric was able to battle his way back to 2nd at the end with a run of 79 laps 15:09. Sean Park ran a consistent race and stayed out of trouble for a respectable 3rd place finish. Steven Jackson, after regretting a last minute tire change struggled in the early laps to claim 4th overall in Round 1 for solid team points for the Mild Seven Mercedes pair followed by Vincente Riveria in 5th and Jason Paredez in 6th. Involved in a first lap incident that scrambled the pack and allowed Panda to stretch an early lead, Team Caterham's Aaron Lane had a drive train failure (stripped spur gear) that dropped him out after just 2 laps. That would hurt Aaron's and Team Caterham's chances for a podium finish for the day.
Round 2:
Race 1 again saw Erik S. jump from his pole position and lead wire to wire with a 75 lap run that would put him in a solid top 10 finish for the round. Erik Denk again finished second but improved by a full lap over his first run this time with a 70 lap finish with Tim Ruwe finishing third.
Race 2 was a continuation of the Mark G. and Quincy show with nose to tail battling most of the race. In the end, Quincy got the upper hand this round with a fine 74 lap run that would net him 7th overall in the second round with Mark G. just 4 seconds behind. Roy T. did not have the same pace as Round 1 so Jeffery Fink moved up to 3rd in this run with Don Stearns in 4th.
Race 3 was a much closer battle with Bill Jeric getting a cleaner start and pushing Panda into a mistake on lap 2. From there, Bill ran a strong and smooth race and after 8 minutes and all pit stops completed, held almost a 4 second lead. However, Panda got into a groove and started carving 1 to 2 tenths a lap and by the 12 minute mark, was right on Bill's tail. A small bobble caused Bill to push wide in the esses and Panda jumped on the chance to retake the lead with just two minutes to go. The excitement increased when the two leaders came up on lapped traffic battling for their own positions with Panda taking the win by just 0.26 seconds after a 15 minute battle, 79 laps 15:02.597 to 15:02.859 for Jeric. This was not the only close battle as Steven Jackson, Aaron Lane having a mechanical free run this round and Sean Park swapped 3rd – 5th all race with Jackson leading the pack for 3rd, Sean 4th and Aaron in 5th just 0.128 seconds behind Sean.
Round 3:
Race 1 looked to be a repeat of the first two rounds until Erik Shauver had what turned out to be a loose sensor wire cost him multiple laps while Aaron lane sportingly assisted him to get back in the race. This is what the UF1 attitude is all about. This allowed Erik Denk to take over the lead about 6 minutes into the race. Back on the track, Erik S. was plowing through the field driving "in anger" looking like Ayrton Senna as he put every effort into catching Erik Denk to secure additional points. However, Erik D. was not to be stopped taking his first UF1 round win just 3 seconds ahead of the hard charging Erik S. This time, Erik Denk improved even further, turning 72 laps, a full 3 lap improvement over his first round. Tim Ruwe again took a consistent 3rd place for the race followed by a good race long battle with newcomer Kevin Roundy besting Earl Barnes for fourth by just 4 seconds with dad Jeremy Dee finishing 6th and son Jacob again having mechanical issues dropping him to the 7th and final spot.
Race 2 and what else to expect than Quincy and Mark G. again having another Epic battle for the race win. This time Quincy grabbed the early lead with Mark G. taking a risky strategy by pitting very early completing both stops on lap 4 and 6 hoping he could have good pace in clean traffic and possibly Quincy falling off pace without Mark on his tail pushing him. Marks strategy appeared to work when after making his second stop, Quincy came out close behind Mark in second now with Jeffery Fink further back in 3rd. Quincy was all over Mark like a cheap suit but Mark would not flinch. When there was contact on a passing attempt, both drivers did right by continuing in their original positions as the level and attitude of UF1 racing expects. Back on race pace, both drivers pushed hard until with just under 30 seconds, Mark G. left a small opening and the BAR Honda took full advantage with just two laps left. Final order had Quincy take the win with Mark in 2nd less than 3/10th's of a second behind. Another fine run and finishing on the leaders pace of 74 laps was Jeffery Fink with Don Stearns besting Roy Tolentino for the 4th position and Doug Rebal and Alan Rollo completing the field in 6th and 7th.
Race 3 and all eyes set to see if Panda could complete the sweep. Lining up in second was again Bill Jeric intent to break his pattern of second place finishes followed by Steven Jackson looking to leap frog his teammate for a win. A clean start for all saw Panda take the lead but followed closely by Jeric, Jackson and Park. 2-1/2 minutes in and Panda was able to open the gap to over a second, out of DRS range and a lead that with later timed pit stops would see him repeat his race one performance leading every lap and finishing with another fast 79 lap performance at 15:01.173 capturing the top 3 race times for the day. Bill Jeric, after falling down as far as 4th with early pit stops made a late race charge and with some help from a back straight away incident involving Steven Jackson was able to recapture 2nd on the 41st lap and finished just 4.5 seconds behind the leader with another strong 79 lap run at 15:05.586. After falling back to fourth from the earlier mentioned incident, Jackson eventually got around Aaron Lane to finish third with Lane just 3 seconds behind in 4th. The final race was completed with fifth going to Sean Park, Vincente Riveria in 6th and Jason Paredez making his UF1 A main debut in 7th.
Final driver standings for the day saw Panda take the early points lead with a clean sweep with TQ and all three wins for a perfect score of 302 points. 2nd was Bill Jeric with three consistent 2nds and 297 points. Third was Panda's teammate Steven Jackson on 293 points and by far the team's best Round 1 result in the UF1 Series. Steady runs saw Sean Park just miss the podium with 4th overall on 291 points. Their strong battles pushing each other every round saw B group stars Quincy McClinton take fifth overall with 282 points and Mark Goldwater in 6th with 281 points. Even with his qualifying drama and electrical issues during the day, team Jagermeister teammate Erik Shauver from the C group tied for 7th overall with Vincente Riveria with 280 points. A fine UF1 Series debut for Jeffery Fink saw him take ninth overall with 274 points and Aaron Lane battle back from his round one trouble to round out the top 10 with 273 points. Honorable mention goes to another UF1 debutante, Don Stearns for just missing out of a top 10 finish coming in 11th with 271 points.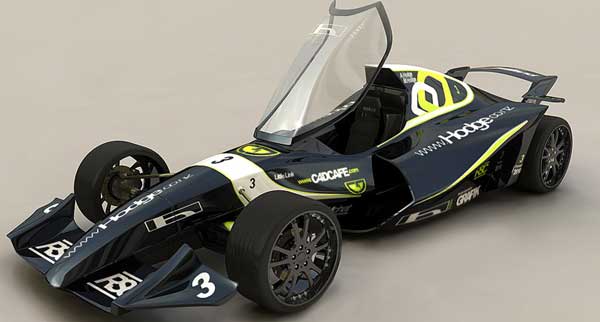 Constructor's Championship
In the team standings, it was all Mild Seven Mercedes today with a dual podium finish for teammates Steven Jackson and Kevin Cole. This pairing after a rough 2012/2013 Winter campaign will be tough to beat this season. Jagermeister Ferrari Tuning Haus lies second 18 points a drift after Erik Shauver's tough day but supported by a strong run by Tuning Haus principle Bill Jeric. 3rd is Team Caterham of Mark Goldwater after a last minute race day signing brought in new teammate Aaron Lane whose drive train failure in Round 1 sees them a further 23 points behind Jagermeister Ferrari. Another new team, Team NBC of Don Stearns with Jeffery Fink filling in for Mark Barden who was attending the real F1 race in Austin Texas finished 4th for the day. Fifth was another new team of UF1 newcomers Jason Paredex and Alan Rollo in their copper Team Renaults. Red Bull Racing was 6th with regular UF1 stalwart Doug Rebal and Tim Ruwe filling in for the absent UF1 originator Charles Lightfoot who had just returned from 2 weeks in Japan and had other committments. Rounding out the team standing in 7th was UF1 regulars Jeremy and Jacob Dee for Team Elf Tyrrell who have changed from the all blue and yellow striped Elf Sponsorship to the blue / white 1st National City Travelers Cheques liveried Tyrrell colors.
Final Thoughts
Round 1 saw lots of close and exciting racing in all groups in all three rounds called by Joe Mac who impressed many on his debut with how quickly he picked up the drivers names / car liveries by the second round of races calling battles at the front, mid pack and back during each race. Round 2 of the series will be Saturday December 21st back at TQ Raceway. Being close to the holidays, we hope to still see a bigger field. Can you say "Honey, I will be out all day Saturday doing Christmas shopping" ? Stayed tuned for more UF1 action…
Post Radio Audio Interview – Kevin Cole
> Click to Download <
Final Results
| | | |
| --- | --- | --- |
| Pos | Driver | Points |
| 01 | Kevin Cole | 302 |
| 02 | Bill Jeric | 297 |
| 03 | Steven Jackson | 293 |
| 04 | Sean Park | 291 |
| 05 | Quincy McClinton | 282 |
| 06 | Mark Goldwater | 281 |
| 07 | Erik Shauver | 280 |
| 08 | Vincent Rivera | 280 |
| 09 | Jeff Fink | 274 |
| 10 | Aaron Lane | 273 |
| 11 | Don Stearns | 271 |
| 12 | Roy Tolentino | 266 |
| 13 | Erik Denk | 265 |
| 14 | Jason Paredez | 264 |
| 15 | Doug Rebal | 261 |
| 16 | Alan Rollo | 257 |
| 17 | Tim Ruwe | 253 |
| 18 | Kevin Roundy | 250 |
| 19 | Earl Barnes | 247 |
| 20 | Jeremy Dee | 244 |
| 21 | Jacob Dee | 241 |