Race Recap: UF1 Winter Series 2013 – Race 4 – Korean GP
Post Race Analysis
Here we are in Race 4 of the 2013 UF1 Winter Series and we are still drawing 44 racers. We typically see a drop off in attendance but it's great to see that people are still supporting the series this late into it.
Once again, the 5-lap average qualifying shows 1st – 26th only 1 second apart, with the entire field only 5 seconds apart. Cars are getting faster and the drivers more consistent, making a good qualifying run extremely important if you don't want to start mid-pack.
Patron Honda driver Lee Passehl once again captures the top spot and the +2 TQ points, showing that consistency is key to starting up front. He won the first 2 rounds and finished 2nd in the final round after a controversial pass by Repsol Honda driver Dave Berger…more on this later. Lee finished the day with 301 points.
Speaking of Berger, he had a great day with 2 2nd place finishes in rounds 1 and 2. His controversial round 3 pass on Passehl on the last turn/last lap could prove costly in Race 5 (see The Pass Heard Around The World below), but Daves smooth style should get him back up front in no time. The Repsol Honda driver recorded 298 points for the day, and follows Lee by only 19 points in the series.
Local fast guy and Team Hot Bodies Ferrari driver Chris Cabrales was only .014 seconds behind Lee in qualifying and also set the fast lap of the day with an 11.464. While there were quite a few drivers that hit the 11.5xx lap time, Chris was the only one to drop it down to the 11.4's. 3 good rounds gave him a 3rd place overall with 289 points. Had Chris been here for every race he could easily be up in the Top 5. I guess we'll have to see if the throwouts work in his favor.
Taking 4th for the day is Kevin Cole. The Benetton Ford's Roche car was on fire all weekend, posting 289 points (and tying Cabrales). Kevin has come a long way from last season where he was affectionally known as a 'One-Lap Wonder'; the guy that can put in one stellar lap (for qualifying) but has a hard time keeping it together for an entire 10-minute run. He sits 6th overall in the series…I guess he showing his critics he's all business in the 2013 Winter Series!
Aaron Lane put on another great show and finished 5th overall with 288 points. Lane is occupying the 2nd seat during the Winter Series for Team Lotus driver Mike Kennedy (Kennedy has been filling in for the Stig on Top Gear). Aaron has placed in the Top 10 in every race and currently sits 3rd overall in the series. He'll be a definite asset to the Lotus team during Kennedy's absence.
In 6th place is the 2012 Summer Series Champ Tony Phalen, scoring 283 points. Having quite the rough start to the season, Phalen has switched back to this Tamiya X1 ride (the car he used in the last series) and has shown some promise again. An unfortunate switch-mounting incident squashed his chances of a higher finish, but he appears to be back on track now. Phalen sits 11th overall in the series, just 1 point out of the Top 10.
Clocking in at 7th place is the Marlboro Mercedes driver, Tyree Phillips. A low-scoring 2nd round kept Tyree from eclipsing the Top 5, but he's appeared to have his TRG chassis dialed in and records 279 points for the day. Glad to see him back in the running (from last season), and gotta love the white wheels!
Joining the Top 10 again is Fred Medel. The Repsol Honda teammate pulls in 278 points, enough to place him 8th overall for the day. Coincidentally, Fred sits 8th overal in the series. Fred and teammate Berger have been working hard on their V2's to extract every ounce of performance from them, and it shows. Great to see Fred in the Top 10 again.
Posting a 9th overall for the day is independent driver Tony Neisinger. Other than Race 1, Neisinger has been consistently at the top of the heap but a bad 3rd round dropped him down this list a bit. No worries, he's always a threat when he puts his Ferrari on the track. He currently sits 4th overall in the series.
Rounding out the Top 10 for the day is Benetton Ford teammate Bill Martinez. Bill is one of those guys that hangs back and just scores points…his 268 for the day put him 3 ahead of Patron Honda driver Ron Schuur for a Top 10 finish. Bill is a strong driver and will just sneak up on you at any given time; all quiet and stealthy. He sits 10th overall in the series.
Team Patron Honda driver Ron Schuur and Team Caterham driver Mark Goldwater just missed making the Top 10. Ron had some rough 1st and 2nd rounds to drop him down the day's final list. He's been a great support to teammate Passehl and the two have been making that TOP car work, so watch for him to come alive in the final races.
Team Caterham driver Mark Goldwater has his best finish yet. Mark has been around the series since it's inception and has always been a well respected, consistent driver. Since the field has become quite heavy lately, G's consistentency just isn't good enough anymore. He's been gradually stepping it up each race so it's great to see him post some good results. Congrats.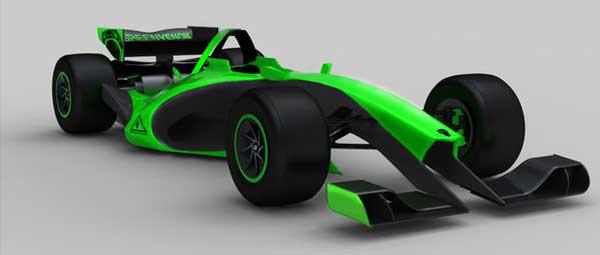 Constructor's Championship
Team Patron Honda continue their trek for the Constructor's Championship with Lee at the helm, but Schuur's off day cost them quite a few points. They still hold the lead by 18 points, but that's not a huge number in the grand scheme. Both drivers will have to step it up now that both Repsol boys seem to be back on pace.
With the team's great finish, Repsol Honda has pulled closer to overtaking Team Patron and picking up their 2nd consecutive Constructor's Championship. Being heroes in one race won't do it, however, so they'll have to keep up the pace and continue to pressure the top team. Thankfully both Berger and Medel have similar driving styles so once one of them finds something that works, they'll both capitalize.
Benetton Ford still sits in 3rd place. Strong Top 10 finishes by Cole and Martinez has kept their bid alive for a Top 3 overall finish. They'll need to continue to bust out some good finishes to keep ahead of the charging Lotus team.
Team Lotus made a last minute decision and added Lane to the team. Their quest for a Constructor's Championship is most likely over, but have set a goal for 3rd place overall. Lane has been having great finishes and now that Phalen has his, uh, stuff together (hopefully), they really want to take 3rd place from the Benetton boys. They are only 66 points back so they'll need to get a move on…
Rounding out the Top 5 Constructors is the Caterham F1 Team. They were looking good for a Top 5 finish but putting points on the board is not going to cut it. Drivers Hammon and Goldwater need to step it up as they're only 15 points ahead of Team Vodafone McLaren Mercedes and not much time left. Rumor has it that if the Vodafone boys finish in 5th overall (or higher), they're going to make a cartoon about them…
The Pass Heard Around The World
The final lap of Race 4 of the 2013 UF1 Winter Series was one that will be talked about for some time. I was fortunate enough to be the Pit Boss and, since it was the last lap and every one had already processed their pits, I was able to watch the race and clearly see the final outcome unfold…
As Passehl and Berger started their final lap, everyone was trackside watching what was for sure to be a fantastic battle. Lee drove a tight line, not giving Berger any room to make a move…and Berger was all over Lee like white on rice! As they entered the last couple of turns, Berger was approximately 1 car length behind…any opening and he was going to make a move. As they approached the final corner, Lee held his normal line, maybe even a tad wide, but Berger drifted slightly wide to change his line through the corner to try and inside pass. Passehl and Berger collided; the unfortunate recipient being Lee as his car tumbled and landed on its lid. Berger drove by the line and pulled to the side…he was going to wait to give the lead back to Lee, but by the time the marshals righted his car and he crossed the line, the race was over. Lee would have to settle for 2nd while Berger took his victory lap.
In my opinion, this is a move that any one of us would have taken…last lap, last corner, and points on the line. Was it aggresive, possibly, but all of us know that Berger and Passehl are two of the cleanest drivers in the series. Had Lee's car not flipped upside down it might have been a different story, but it did.
In an unprecidented move, Team Patron Honda has filed a formal protest against Repsol Honda driver Dave Berger! The UF1 Committee was consulted and while the points will stand, Dave will be assessed a 5 grid-spot penalty for round 1 of the 5th race of the series.
Final Thoughts
As the UF1 grows, so do the stakes involved. Everyone wants to win, but sometimes mistakes are made in the process. One thing to remember is that we're all here to have fun and, while we're starting to see some competitive moves arising, friendships and sportsmanship should come first. I love this series…that's why I wanted to continue to help it grow…but the last thing I want to see are people's feelings hurt and leaving the series. The format, competitiveness and drama all have a place in the series, but let's take it with a grain of salt and have some fun. Thanks for playing.
Track Tip
As you all know, the UF1 is comprised of 2WD cars. They can sometimes be a handful to master, especially as the surface and traction changes. A quick tip and something you should really know about is how to use the Dual Rate function on the radio. The Dual Rate limits the amount of throw your tires have, helping to settle down the car if you have too much steering. Let's look at a scenario: It's round 1 of the series your car is dialed. It has the perfect amount of steering and you can drive it like a champ. Round 2 sees your car a bit more of a handful; it seems to be steering to hard now and you're not sure what to do. In Round 3, the steering is overkill. You start turning in to soon, oversteering the corners or it's just to darn twitchy. You're already on the track…what do you do? Try lowering the Dual Rate percentage on your radio. Basically (depending on how you have your radio set up), 100% Dual Rate allows the wheels to turn from lock-to-lock. When the track has lower traction, this might be ok, but when the traction comes up, it's way to much. Lowering the Dual Rate down to something like 85% (or sometimes lower) will still allow your car to turn well, but will help reduce oversteer or turning in to early. You'll probably have to experiment with the amount you need to reduce it, but the idea is to help you get through the race until you can properly tune your car to the track conditions.
Final Results
| | | |
| --- | --- | --- |
| Pos | Driver | Points |
| 01 | Lee Passehl | 301 |
| 02 | Dave Berger | 298 |
| 03 | Chris Cabrales | 289 |
| 04 | Kevin Cole | 289 |
| 05 | Aaron Lane | 288 |
| 06 | Tony Phalen | 283 |
| 07 | Tyree Phillips | 279 |
| 08 | Fred Medel | 278 |
| 09 | Tony Neisinger | 271 |
| 10 | Bill Martinez | 268 |
| 11 | Ron Schuur | 265 |
| 12 | Mark Goldwater | 2259 |
| 13 | Tomas Schlick | 259 |
| 14 | Sean Park | 258 |
| 15 | Steve Jackson | 253 |
| 16 | Roel Espina | 249 |
| 17 | Calvin Simmons | 248 |
| 18 | Torrance Deguzman | 246 |
| 19 | Jason Huang | 244 |
| 20 | Vincent Rivera | 243 |
| 21 | Charles Lightfoot | 242 |
| 22 | Bill Jeric | 237 |
| 23 | Roy Tolentino | 234 |
| 24 | Doug Rebal | 232 |
| 25 | Matt Siu | 227 |
| 26 | Todd Marshall | 224 |
| 27 | Mark Carreon | 221 |
| 28 | Craig Hammon | 219 |
| 29 | Jack Deanda | 218 |
| 30 | Jose Monge | 212 |
| 31 | Tim Ruwe | 208 |
| 32 | Dan Apodaca | 207 |
| 33 | Alex M | 205 |
| 34 | Carlos Ledezma | 203 |
| 35 | Jay Kimbrough | 203 |
| 36 | John Arbona | 202 |
| 37 | Leo V. | 198 |
| 38 | Alan Ryono | 196 |
| 39 | Earl Barnes | 195 |
| 40 | Eric Gamboa | 190 |
| 41 | Willie S. | 183 |
| 42 | Jeff F. | 181 |
| 43 | Jeremy Dee | 181 |
| 44 | Jacob Dee | 178 |